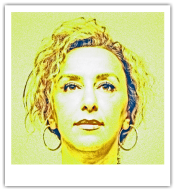 Hello! My name is Farah Ajoodanifar. As a self-taught artist, I have a lifelong passion for the beauty of art.
I am an artist, a mentor, a coach, a leader, a scientist … with a thirst for improving the quality of people's life. I have a Bachelor's degree in Chemistry, a Master's degree in Leadership and Management, years of experience in the Pharmaceutical industry, and a permanent craving for making our world a better place.

As a child, I drew every cartoon character that I saw on TV, took photos of my family and friends, but mostly flowers as their vibrant colors fascinated me. I started painting with oils as a teenager and later became interested in acrylics and mixed-media. I painted sceneries, colorful flowers, cartoonish and whimsical characters of animals, and abstracts.

Painting makes me lose track of time and feel freedom beyond expression. My contemporary abstracts embrace my soul and take me far away from the ordinary, helping me experience the extraordinary. I strive to create abstract paintings that bring the viewer closer to ponder upon the extraordinary power of freedom.

Now I share my expressions and art with you, eager to capture your interest and thoughts. Hope that my creations add interest and beauty to the place you work, you live, you love. After all, "Art makes life ridiculously amazing!©".